Birthday Flowers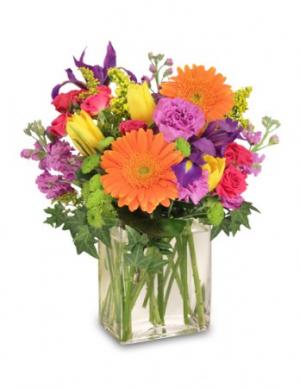 Celebrate Today!
Bouquet
Whether you're celebrating the birth of a child, kindness of a friend, the closing of a business deal or showing appreciation... Celebrate any occasion or brighten any day of the week with a colorful bouquet of fresh flowers! Don't they deserve a day that's all about them? Call COLE'S FLOWERS or order online today.
Thinking about sending your son or daughter some flowers while at Middlebury College for their birthday? Then you've come to the right place.
We have an extensive selection of a bouquet or centerpiece design specifically geared for birthdays.
Orange gerberas, and of course, red roses, are just a sample of flowers we use to create a playful celebration piece that your loved ones cherish as their favorite gift. As your Middlebury florist, we deliver from Vergennes and Bristol to Shoreham and Middlebury College.
On time delivery is our guarantee, along with our beautiful selection of flowers and accessories.
Don't forget to add a special stuffed animal, chocolates or a balloon to make your special bouquet or birthday centerpiece complete.
Flowers are a can't miss gift. They're pretty, personable and they'll be thinking of you every time they peak at your creation.
Dorm room or family room, flowers bring out the beauty in any room. Call Cole's for the perfect flower centerpiece for your Middlebury loved ones.